PUSHKIN STATE RUSSIAN LANGUAGE INSTITUTE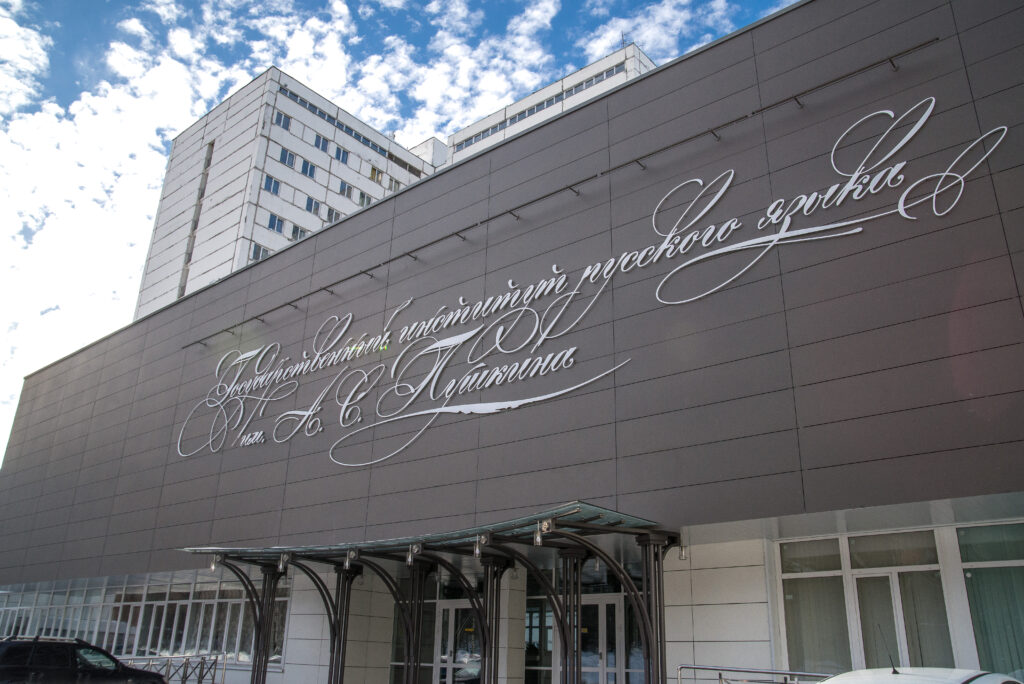 It is:
teaching and research center
many years of experience in teaching Russian to international students
highly qualified teachers
latest methodology and techniques
The Institute was founded in 1966.
Pushkin State Russian Language Institute specializes in teaching Russian to international students and in training teachers to teach Russian as a foreign language. It has four main departments:
Philological Department
Department of Teaching Russian as a Foreign Language
Department of Continuing Education
Department of Pre-University Education
The academic program of 
the Philological Department
 is based on three cycles: four-year Bachelor Programs in Philology, a two-year Master Programs in Philology and Lingusitics, and a three-year post-graduate programs in Russian Language and in Theory and Methodology of Teaching Russian as a Foreign Language. Upon graduation students are granted state diplomas and degrees of Bachelor of Philology, Master of Philology, Researcher specializing in teaching Russian as a foreign language respectively. International MA/MS degrees holders wishing to pursue a PhD degree are welcome to apply for the post-graduate course.
The Department of Teaching Russian as a Foreign Language (Russian Language Courses)  provides a wide range of educational services in the field of teaching Russian as a foreign language.
Russian language courses are available at all levels from beginners to advanced.
Students acquire a good command of the Russian language, learn about Russian culture and literature, and master the techniques of teaching Russian as a foreign language. Advanced students can choose among lectures or workshops on the Russian language, literature, culture and civilization, or take a course in Business Russian (communication and correspondence).
All students are provided with course materials and have full access to all Institute facilities and resources including language labs, video and computer-equipped classes, library, audio, video and computer programs developed at the Institute. The course duration is 1-10 months.
The programme can be tailored to students' needs. Students can choose courses of the following groups of subjects:
Russian Language Improvement
Russian Culture and Literature
Russian Teaching Methodology and Techniques
For those willing to spend their vacations studying Russian, Russian Language International Summer Courses are held throughout June – August. Visa support is provided. Residential students are accommodated in the Institute's hall of residence. The full program provides:
24 academic hours of language classes per week
excursions to Moscow historic sites and museums (for some educational programs).
The Department of Continuing Education 
provides:
programs in professional development for teachers of Russian as a foreign language;
language internships for undergraduates and graduates from overseas colleges specializing in humanities;
a distant course in teaching Russian as a foreign language;
elective courses on linguistics and methodology.
Individual professional interests and needs are catered for with the utmost consideration.
Pre-University Education Department  provides pre-university programs including Russian language course and specialized disciplines for foreign nationals who wants to get ready to attend the higher education programs at the Pushkin Institute or at the other universities of Russia.
Pushkin State Russian Language Institute Certificates are issued upon completion of the course. 
Pushkin State Russian Language Institute in cooperation with the Ministry of Science and Higher Education and Chamber of Commerce and Industry of the Russian Federation offers certificated examinations in Russian in compliance with the Council of Europe standards.
The examinations are also held at examination centers in Poland, Bulgaria, Rumania, the Czech Republic, Italy, Switzerland, Greece, Finland, Slovakia, France, Spain, Estonia and other countries.
In 2019, the Pushkin Institute's educational programs underwent the procedure of international public accreditation and were accredited by the National Center for Public Accreditation until January, 30, 2025 and were included info European Database of External Quality Assurance Results (DEQAR).